"Falun Gong Is Very Important to Australia"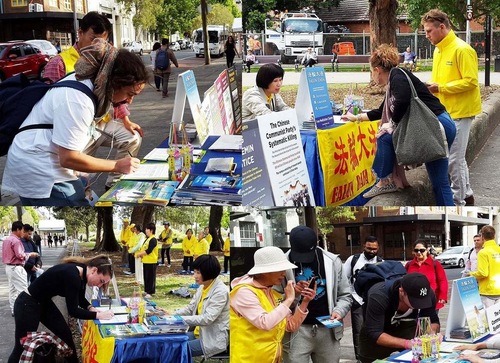 (Minghui.org) Falun Gong practitioners in Sydney hold activities regularly to introduce the meditation to the public and expose the brutality of the persecution in China.
"When I searched for information about Falun Gong online, I realized that Falun Gong is very important to Australia," said Sydney resident Brooke Wern while speaking with a practitioner late last year at Prince Alfred Park. She had come across the group as they had gathered at the park to do the exercises.
"The Chinese government does not give us the real Chinese culture, such as Falun Gong, a peaceful cultivation method. Instead, they deliver something else to Australia. This concerns us," Ms. Wern said.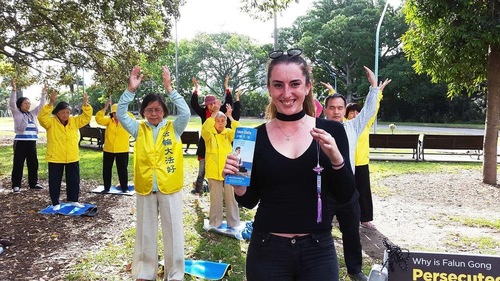 Brooke Wern appreciates Falun Gong and traditional Chinese culture.
Ms. Wern often sees practitioners in Parramatta, a prominent suburb 14 miles west of Sydney's CBD, and said she enjoys watching the peaceful exercise movements. "I like Chinese culture and I believe that Truthfulness-Compassion-Forbearance is the universal truth," she said.
"I know that the Chinese government tightly censors the Internet. You cannot see anything about Falun Gong on the Chinese websites. Australians can only see the communist party propaganda on those websites. This is a big problem."
Ms. Wern signed the practitioners' petition condemning the state-sanctioned organ harvesting crimes against imprisoned Falun Gong practitioners in China. She said that only an evil regime could commit such atrocities.
Practitioners hold an event at Prince Alfred Park.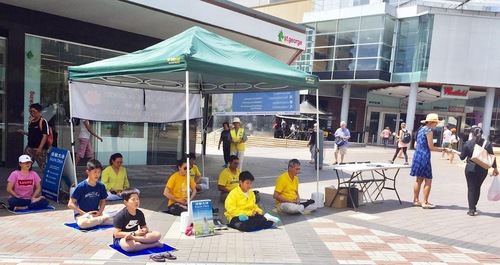 Practitioners demonstrate the exercises in the Hornsby community in Sydney.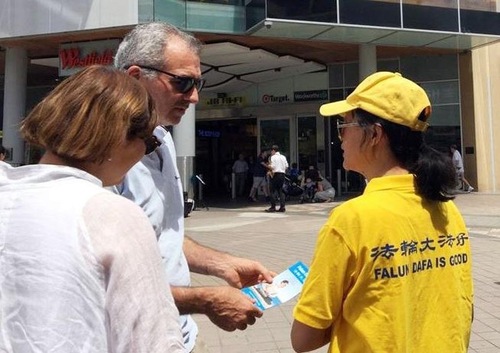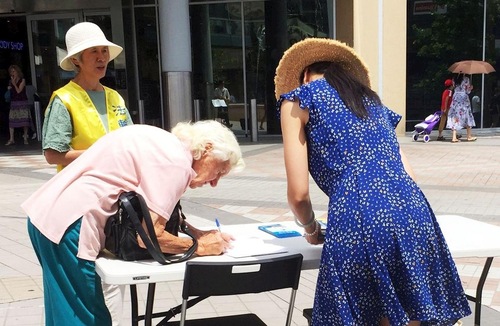 People interested in learning the exercises sign-up for a free workshop.
Leonie Lynch, a local resident, felt a strong energy field when she passed by the Falun Gong group exercises. "You don't often see such a harmonious scene in town. They are so peaceful and kind. They have some magic power that attracts me," she said.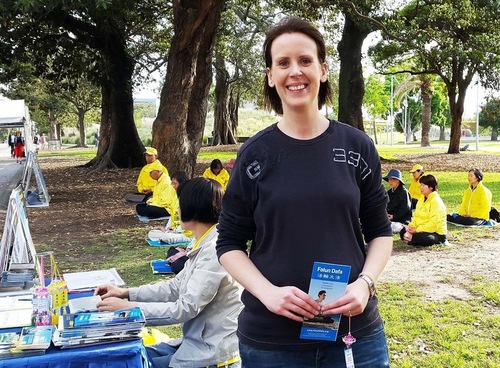 Sydney resident Leonie Lynch
"I've seen their protests against the forced organ harvesting," she said. "It is so brutal. Falun Gong has done a great job informing people about it. The communist party is so evil to torture people for practicing meditation. We should all do what we can to help to stop the persecution."
She planned to spread the word on social media.
"If we can all stand up to stop the persecution, then the justice, morality, and peace will be with us. Busy people should all learn from Falun Gong, and return to our peaceful traditional lifestyle," Ms. Lynch said.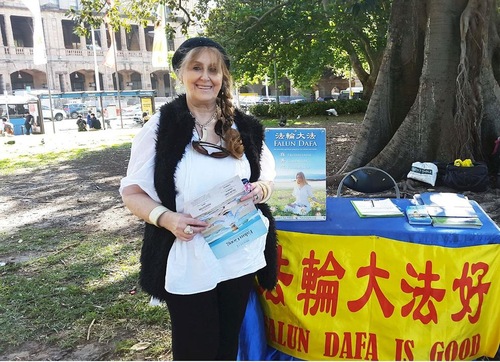 Sydney resident Christina Ringsell.
Christina Ringsell had signed a petition in Sydney's Chinatown many years ago and had thought that the persecution had ended. "I hope I can do something to help them and stop it now," she said.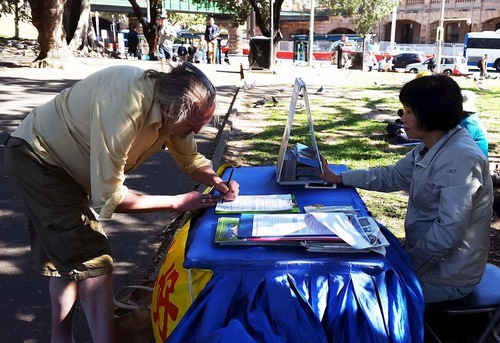 Jem S. signs a petition calling for an end to the persecution in China.
Jem S., a retired soldier, said that more Australians need to pay attention to human rights and stop the persecution in China.
He said, "I admire Falun Gong. They are so peaceful, kind, and self-disciplined, unlike most other protest groups. What Falun Gong has shown to society is always the beautiful Chinese cultivation practice."
"We are living in the same world. The communist party's persecution is against all of us," he said. "The Australian government should prioritize human rights and a peaceful future."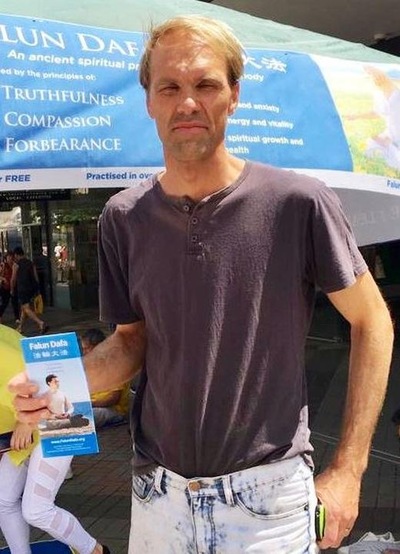 Sydney resident Paul Freeman
Paul Freeman, a local architect, talked to practitioners for a long time. As a Christian, he strongly supports Falun Gong's peaceful resistance. "Those who are being tortured are my brothers and sisters. We should help each other."
Related report in Chinese:
http://www.minghui.org/mh/articles/2018/12/1/悉尼民众-法轮功对澳洲至关重要(图)-377911.html
Източник/ци: http://en.minghui.org/html/articles/2019/2/22/175915.html
Ако този материал Ви харесва, помогнете ни да го популяризираме. Благодарим Ви!