Paris, France: "Falun Gong Is Not Just China's Treasure, It's the World's Treasure"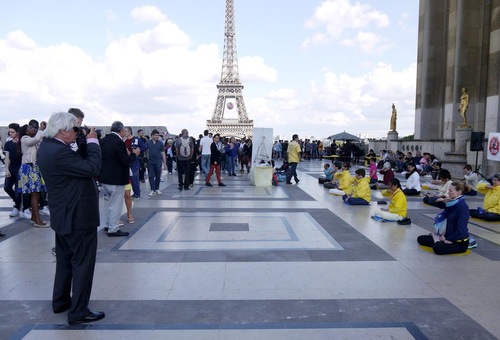 (Minghui.org) 26-year-oldChristian Carpineta from Italy stood in front of some posters near the Eiffel Tower reading about the brutal persecution of Falun Gong in China. He began asking questions to some practitioners who were there raising awareness about this spiritual practice that's been persecuted since 1999.
Learning that Falun Gong is rooted in traditional Chinese culture with core principles of Truthfulness-Compassion-Forbearance, Carpineta commented, "It's not just China's treasure, it's the world's treasure, the treasure of mankind."
Many visitors read the posters and learned about the persecution of Falun Gong in China.
One of many who stopped at the Falun Gong display on June 26, Carpineta currently resides in Nantes in Western France, and works at a nursing home. He told a practitioner that this was the first time he heard about the persecution.
"I pay special attention to persecutions, especially those against people of faith. China has a special place in history. However, because of the Cultural Revolution, its spiritual beliefs are persecuted and historical relics destroyed. The country has come to a dangerous stage."
Encouraging the practitioners to continue their efforts, he said, "We need to make people aware of what is happening in China and cherish this practice."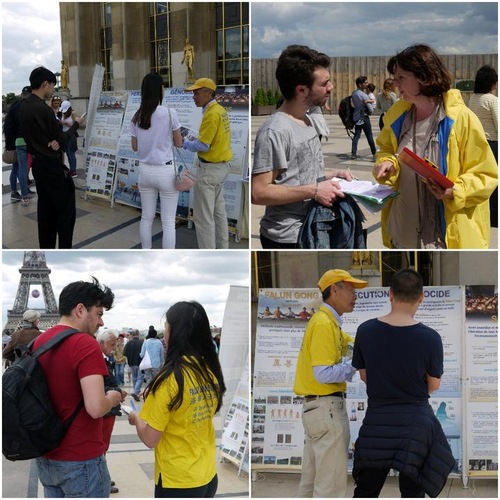 Many visitors read the posters and talked to practitioners
Carlos Meldenes signed the petition demanding that the persecution stop after he learned about China's state-sanctioned organ harvesting from living Falun Gong practitioners incarcerated for their faith.
"This is a crime of genocide, a bloody slaughtering. If it was done by a regime, then the regime is guilty," Meldenes said in an outraged tone. "You must let everyone know that the Chinese communist regime is committing a crime against humanity."
Cecile from Paris is an 80-year-old Christian woman who understands religious persecution. After she signed a petition, she said, "I want to help fight for your rights. You are doing great work. Keep it up!"
http://en.minghui.org/html/articles/2016/6/29/157614.html
Ако този материал Ви харесва, помогнете ни да го популяризираме.Благодарим Ви!